I have been an avid wildlife artist for over 40 years and have been fortunate to have grown up in a country that has an abundance of wildlife parks and sanctuaries. This has no doubt contributed to my keen interest and passion for this subject.
Brief overview of art progression and career.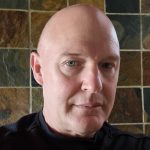 I matriculated at the Johannesburg School for Art , Music , Ballet and Drama which gave me a solid grounding for art and my future endeavours. I later moved into the commercial art industry specializing in graphic design and advertising before being submersed in the bigger corporate environment. Having made a full circle to becoming a full time artist has given me the scope to expand and grow my art style and expression.
During this time I have also embarked on a journey to understand the evolution and history of art over the ages. This is of particular importance especially in crafting art that moves beyond just being decorative or representational. With the plethora of art that is created and now available worldwide it is important to be unique, relevant and evolving.
Wildlife art is not only specialized but is highly niched. Creating art that is relevant to collectors, wildlife pundits, tourists or art lovers becomes even more challenging. In this regard I endeavour to create art that is fresh, contemporary and meaningful. However what is common beyond the wildlife is a deeper thought or expression which the art work attempts to communicate.